Warmer weather means picnics, barbeques, beach days, and get-togethers. The one thing in common with all of these gatherings is a lot of food. Often times, it includes store-bought chips, packaged potato salad, and coleslaw. But what I really appreciate are those homemade dishes that people take time to prepare themselves. These items are not only fresher but often add a healthy and delicious alternative to traditional picnic food.

Consider making one of these refreshing side dishes for your next gathering. Using fresh vegetables and Olive Your Heart® omega-3 olive oil will bring delicious, healthy flavors to any gathering.
BEET SALAD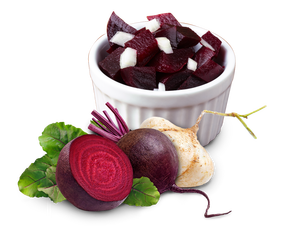 Ingredients:
5 medium beets, pre-cooked
¼ cup of Olive Your Heart®, natural
½ tsp. of Dijon mustard
2 tbsp. of white wine vinegar
½ tsp. of honey
½ tsp. of salt
1 large shallot, finely chopped
½ cup of jicama, chopped
Ground pepper, to taste

Directions:
Whisk oil, vinegar, honey, mustard, salt, and pepper in a small bowl.
Cut the prepared beets into ½-inch cubes.
In a large bowl combine the beets, jicama, and shallots.
Pour dressing and toss well.
Serve chilled or at room temperature.
CHERRY TOMATO MOZZARELLA BALL SALAD
Ingredients:
¼ cup of Olive Your Heart®, basil
¼ cup of fresh basil, chopped
1 lb. of cherry size mozzarella balls
1 pint of cherry tomatoes
3 tbsp. of balsamic vinegar
Salt and fresh cracked pepper, to taste

Directions:
Combine olive oil and fresh basil in a bowl.
Add mozzarella balls.
Season with salt and pepper to taste.
Marinate in the refrigerator for 30 minutes.
Remove and add cherry tomatoes and balsamic vinegar, and mix well.
Use more salt and pepper as desired.
TOMATO AVOCADO SALAD
Ingredients:
3 cups of Persian cucumbers, sliced
2 medium heirloom tomatoes, sliced into wedges
¾ pint of heirloom cherry tomatoes, sliced in half
2 avocados, sliced in thin wedges
½ cup of Olive Your Heart®, natural
¼ cup of Tamari sauce
¼ cup of rice vinegar
¼ cup of fresh cilantro, finely chopped
2 tsp. of sesame seeds
Salt, to taste

Directions:
Whisk together olive oil, tamari sauce, rice vinegar, and salt to taste.
Layer the vegetables, starting with the cucumbers and heirloom tomato wedges on a serving platter.
Sprinkle the cherry tomatoes on top.
Top the salad with avocado slices.
Drizzle the dressing over the salad.
Sprinkle the sesame seeds and cilantro on top.