Super Bowl is right around the corner and it's not only a celebration of the season's best football teams but also a time to eat and drink for hours! I always have a large pot of chili on the stove at my Super Bowl parties, along with some of these tasty appetizers. Whether you are throwing your own party, or going to one, try one of these healthy appetizers that are sure to please everyone.
SAUTEED MUSHROOMS
Ingredients:
2 Tbsp. butter, divided
2 Tbsp. Olive Your Heart®, garlic
8 oz. baby bella mushrooms, sliced
8 oz. Shiitake mushrooms, sliced
2 portobello mushrooms, thinly sliced
1/2 tsp. salt
1/4 tsp. pepper
1 tsp. fresh thyme leaves
1 tsp. rosemary leaves

Directions:
In a large skillet, melt 1 Tbsp. butter over medium heat.
Add baby bella mushrooms, and season with salt and pepper.
Cook for 4 minutes, while continuing to stir.
Remove and place mushrooms aside in a bowl.
In the same pan, melt another 1 Tbsp. butter, and add 1 tsp. of fresh thyme leaves and 1 tsp. of rosemary leaves.
Cook portobello and shiitake mushrooms until tender (approximately 5 minutes).
Return the baby bellas to the pan, and salt and pepper again.
Remove from heat and transfer to a glass bowl.
Drizzle 2 Tbsp. Olive Your Heart®, garlic flavor omega-3 olive oil.
Serve immediately with warm crusty bread
SMOKED SALMON TARTAR
Ingredients:
2 cups smoked salmon, diced
1/4 cup red onions, diced
1/4 cup capers
1/4 cup Olive Your Heart®, natural
1/8 cup fresh lemon juice
1 avocado, diced
1 lg. cucumber, sliced
Fresh ground pepper

Directions:
In a bowl, combine salmon, capers, onion, avocado, Olive Your Heart®, and lemon juice, and mix evenly.
Season with pepper to taste.
Arrange the cucumber slices on a large serving plate, and top each slice with a spoon of the salmon mixture.
Sprinkle with sesame seeds (optional).
Keep refrigerated until ready to serve.
ZUCCHINI SALAD CAPRESE STYLE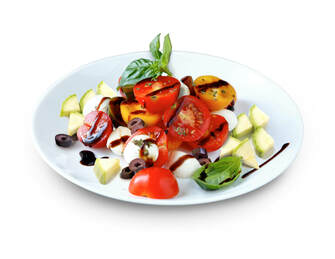 Ingredients:

2 med. zucchini, diced
1 1/4 cup heirloom cherry tomatoes, sliced in half
1 cup kalamata olives, sliced in half
2 Tbsp. fresh lemon juice
1/4 cup balsamic glaze
1/4 c Olive Your Heart®, basil
1 clove garlic, minced
Salt and pepper to taste
15 small mozzarella balls, sliced in half
1 cup fresh basil, thinly sliced into ribbons

Directions:
Place the zucchini, tomatoes, and olives in a large bowl.
Mix the lemon juice, balsamic glaze, Olive Your Heart®, and garlic in a small food processor until smooth.
Pour the marinade over the zucchini mixture, and mix evenly.
Stir in the mozzarella balls and basil.

This fresh salad brings color to a table and compliments heavier dishes usually served on Super Bowl game day, like chicken wings. This recipe can be made a day in advance.